Unexpected Roman ruins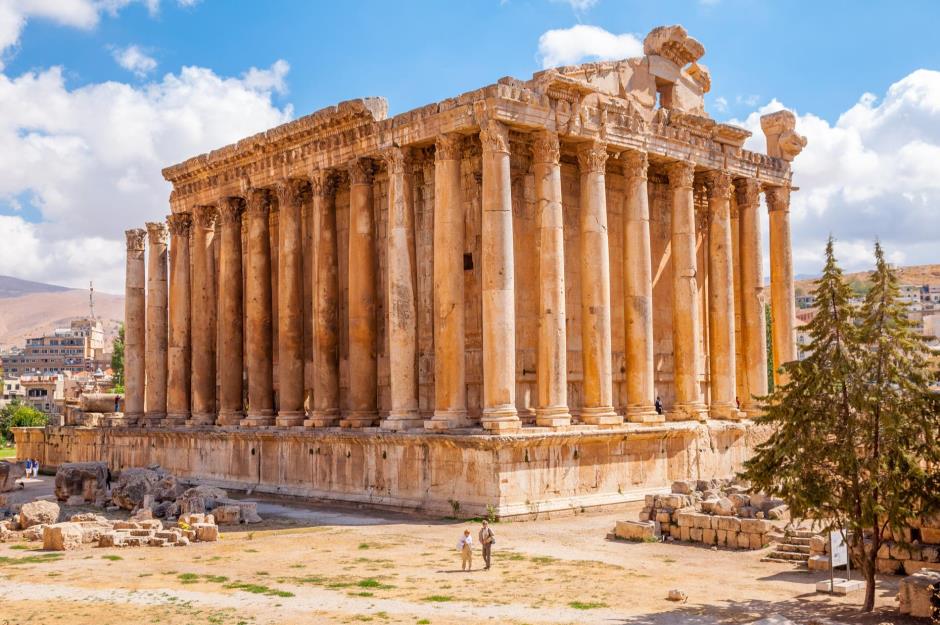 Milonk/Shutterstock Unless you've been living under a rock – or a temple – it's likely that you'll have heard of the famous Roman ruins of Pompeii and the ancient architectural gems of Rome. At its peak, the Roman empire covered nearly two million square miles – spanning large swathes of western Europe, Africa and even parts of Asia – so there are plenty of lesser-known wonders to explore without the crowds.
Aphrodisias, Turkey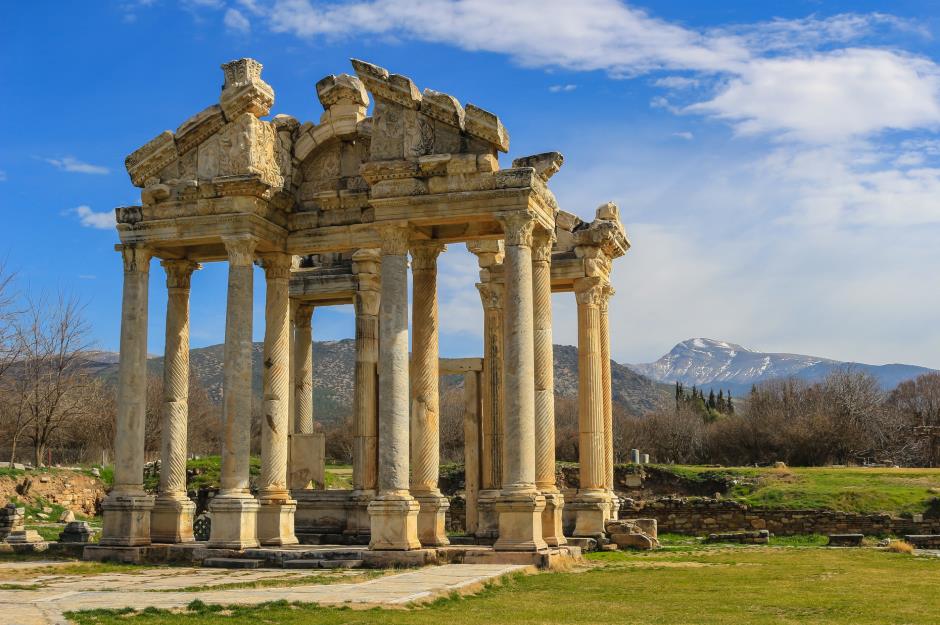 gvictoria/Shutterstock Founded by the Greeks and later conquered by the Romans, this captivating site showcases the best of the Hellenistic and Roman eras. Found just a couple of hours to the east of the famous ancient Greek city of Ephesus in the village of Geyre, it has been beautifully preserved. You'll find far fewer tourists here than at some of Turkey's more popular sites.
Butrint, Albania
Martchan/Shutterstock
Less than 12 miles from the coastal resort town of Sarandë, this ancient Roman city sits in its own national park and was salvaged from its state of disrepair by funding from the lords Rothschild and Sainsbury in the late 1990s. While it is also home to Greek and Byzantine ruins, the Roman influence at Butrint is unquestionable, with a bathhouse on site as well as an aqueduct. There's a fascinating museum, which details the area's historical significance, and the area is a leafy, tranquil escape from Mediterranean sun.
Walls of Lugo, Spain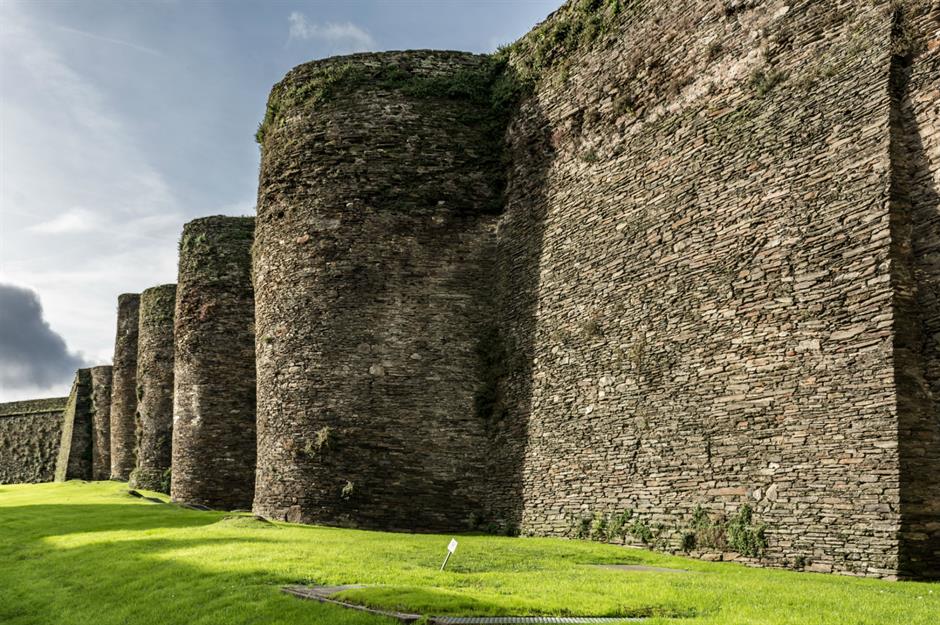 Juan Enrique del Barrio/ Shutterstock The city wall in Lugo is so well preserved, it's almost hard to believe it was built in the Roman era. Lugo's wall was originally constructed to protect the Roman city from barbarians and at its tallest point is almost 40 feet (12.1m) high. Today's visitors can walk along the wall and see fantastic views of Lugo and beyond.
Jerash, Jordan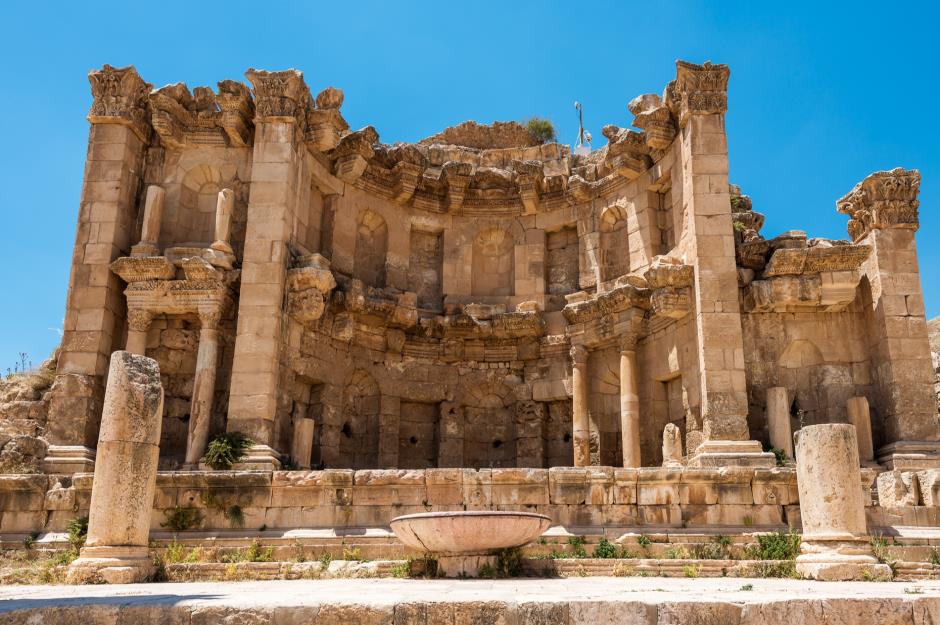 Elena Pavlovich/Shutterstock
Jerash is Jordan's second most popular archaeological site and is often dwarfed by the country's mesmerising ancient world wonder of Petra. North of the capital Amman and once known as Gerasa, the site remains remarkably intact considering the numerous earthquakes it has survived.
Caesarea, Israel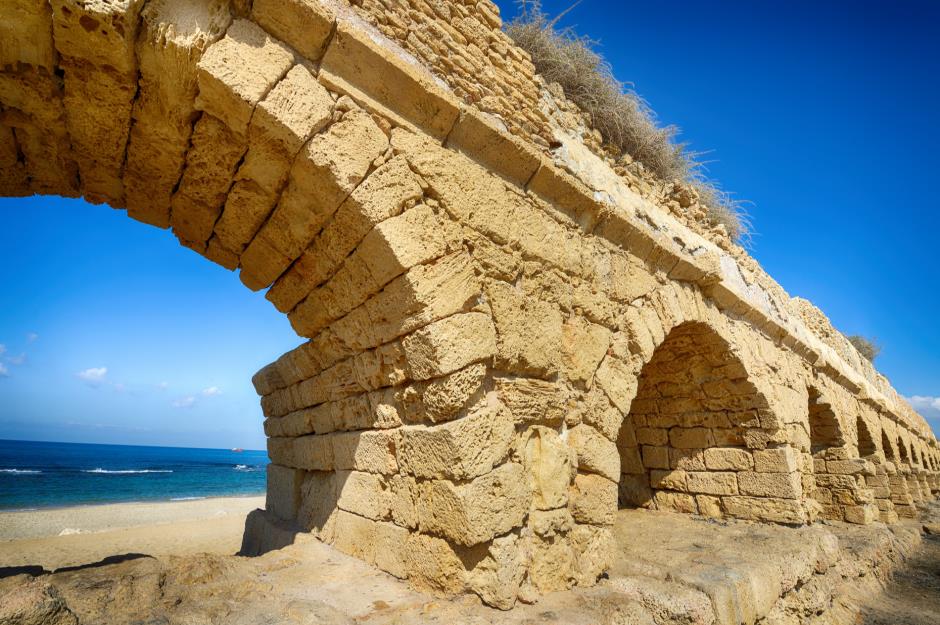 Yuriy Chertok/Shutterstock
Midway between Tel Aviv and Haifa, Caesarea is one of the few places where the Roman Empire met the sea. Its namesake national park protects many of the archaeological treasures created by King Herod in the 1st century BC. The park is home to the world's only underwater museum where you can dive among ancient ruins.
Check out 30 of the world's most jaw-dropping underwater attractions.
Hadrian's Wall, England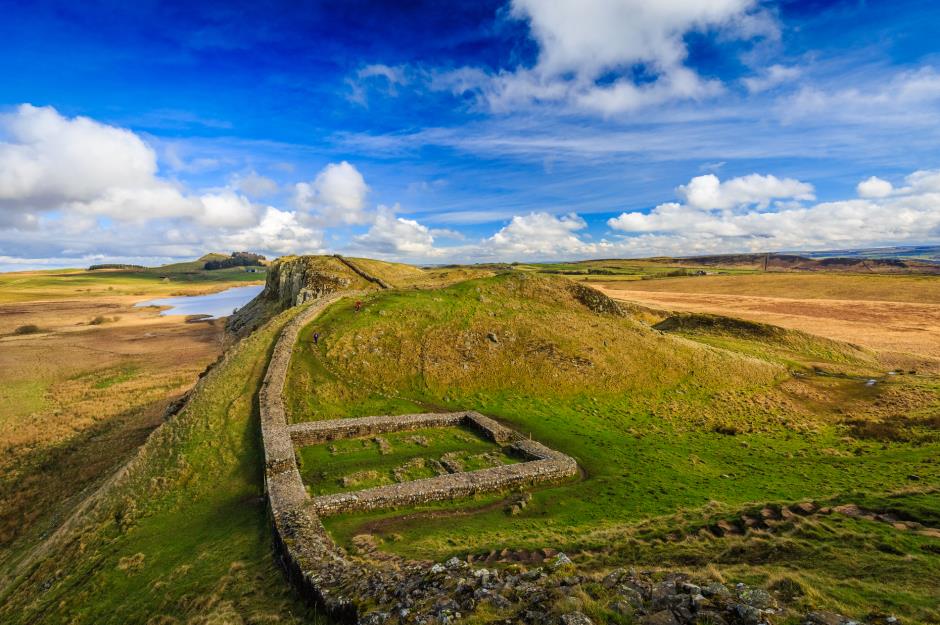 Michael Conrad/Shutterstock
Once snaking its way across the north of England from Wallsend near Newcastle to Bowness-on-Solway in Cumbria, Hadrian's Wall was built by the conquering Romans in around AD 122 to protect against northern barbarian tribes. Today, only segments of the wall remain. Some of the best-preserved forts and settlements are Housesteads, Chesters and Vindolanda near Hexham, and Birdoswald in Carlisle.
Paphos, Cyprus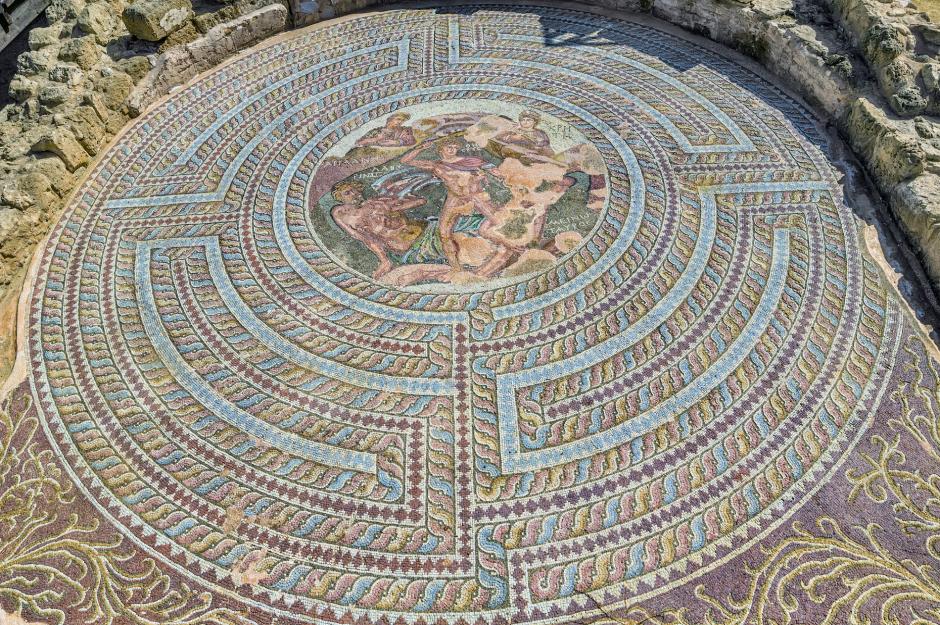 tuulijumala/Shutterstock Located in western Cyprus, this large site has been inhabited since Neolithic times and, according to legend, is the birthplace of Aphrodite. The mosaics here are among the finest in the world, while the houses of Dionysus, Orpheus, Aion and Theseus are beautiful examples of elaborate Roman villas.
Timgad, Algeria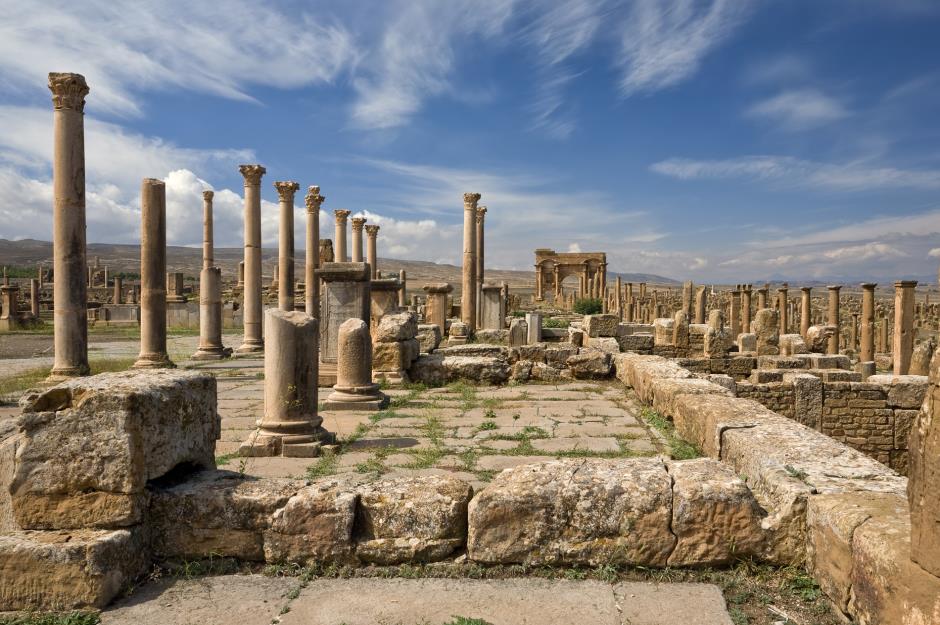 WitR/Shutterstock
Roman-Berber Timgad, founded around AD 100, is on the northern slopes of the Aurès Mountains, southeast of the city of Batna. Often referred to as the 'Pompeii of Africa', Timgad was an ex-military colony and today you can still see remnants of the impressive 14 baths, as well as the ruins of grand houses with mosaic floors. Currently however, according to UK and US foreign office advice, tourists in Algeria should exercise increased caution and consider taking extra security measure when visiting the country.
Imperial Baths of Trier, Germany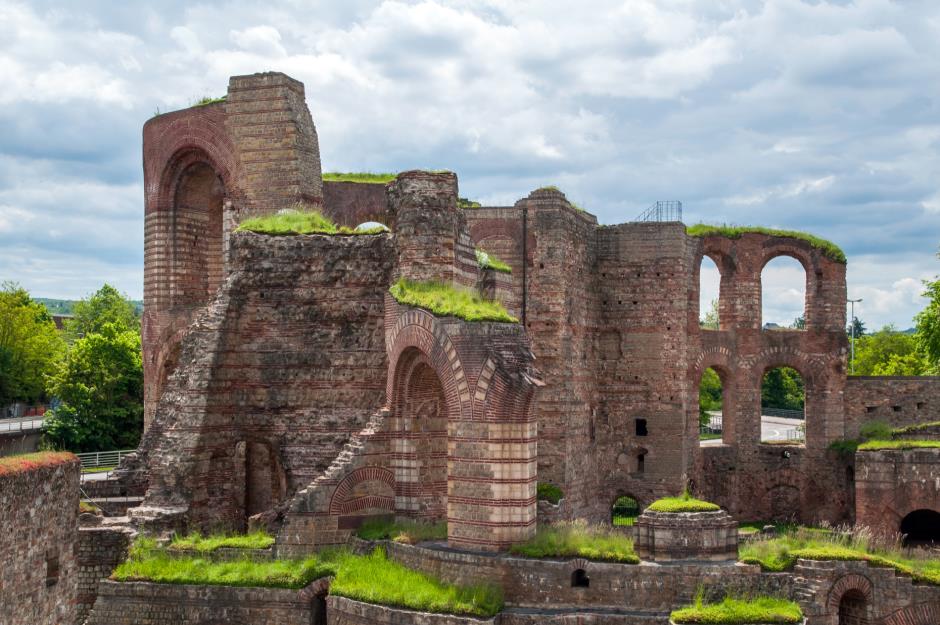 LudwigChrist/Shutterstock These beautiful and well-preserved baths date back to around AD 300. Believed to be the biggest Roman baths to be built outside of Rome, they feature a huge hot water bath, six boiler rooms, a steam bath, an intricate under-floor heating system and a cold-water bath. There is a small admission charge of €4.00 (£3.50/$4.45) but it's worth it.
Cartagena, Spain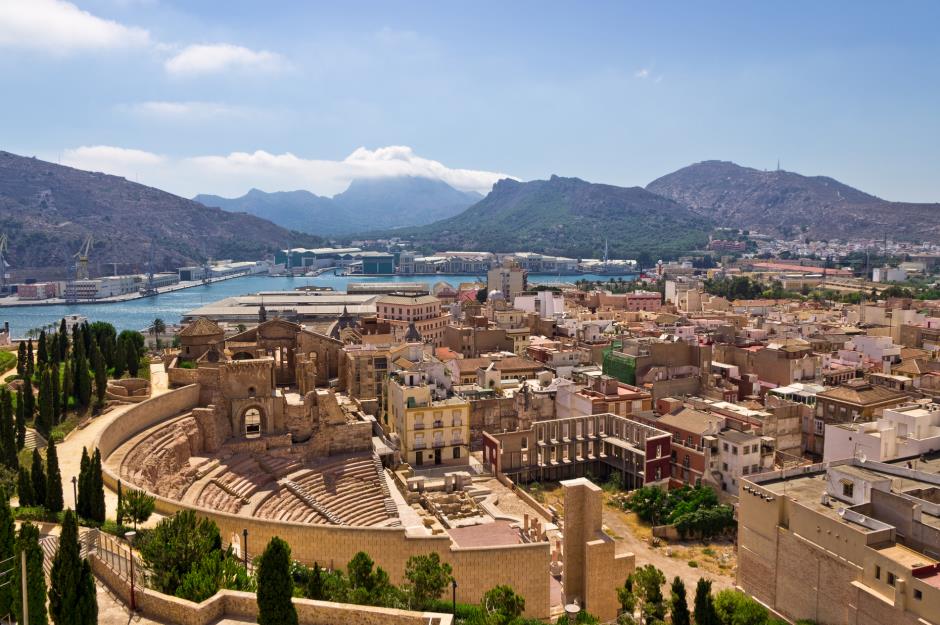 Shaun Dodds/Shutterstock
With a deep, natural port and the nearby silver mines to the east, this city in southeast Spain was of huge strategic importance to the Romans, who took it from the Carthaginians in 209 BC. While there's not much left here, its Roman theatre has been well preserved and is the second largest in the country.
Leptis Magna, Libya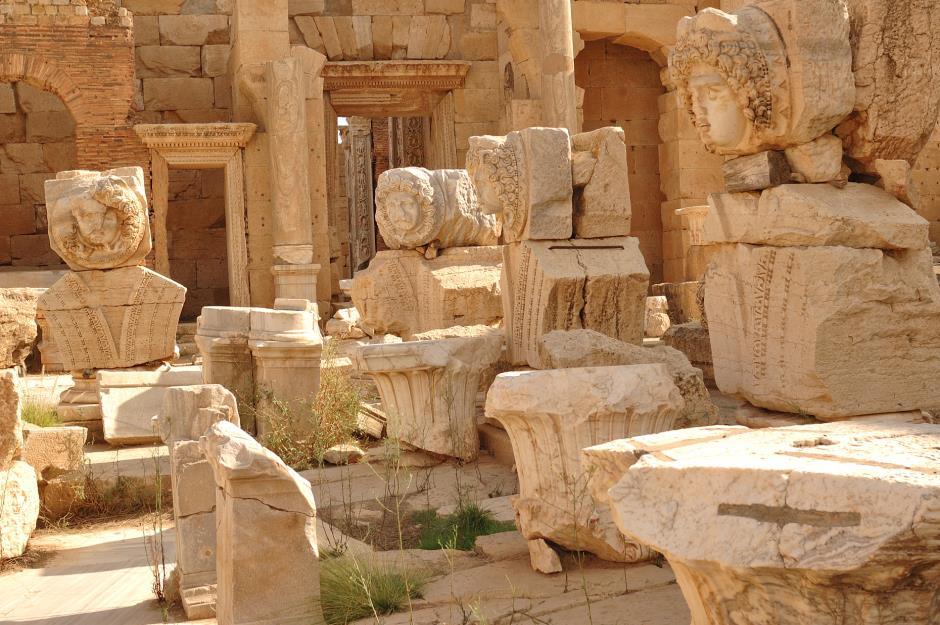 Cenz07/Shutterstock
For over 900 years, Leptis Magna was a jewel in the crown of the Roman Empire. Found on the Mediterranean coast of Libya just 62 miles southeast of Tripoli, Leptis was the birthplace of emperor Septimus Severus and benefitted enormously from his patronage. It was discovered by archaeologists in the 1920s and is one of the best-preserved Roman cities in the world. Sadly currently both the British and US governments advise against travel to Libya due to continuing unrest.
Dougga, Tunisia
Traveller76/Shutterstock Located more than 70 miles southwest of Tunis, many of the Roman ruins found in Dougga date from AD 100 to AD 300 and remain in good condition. The site also offers superb views out across the valley of Oued Khalled. Although there are no restrictions on travel to Dougga, the UK and US advise tourists to exercise caution in the country due to recent unrest.
Perge, Turkey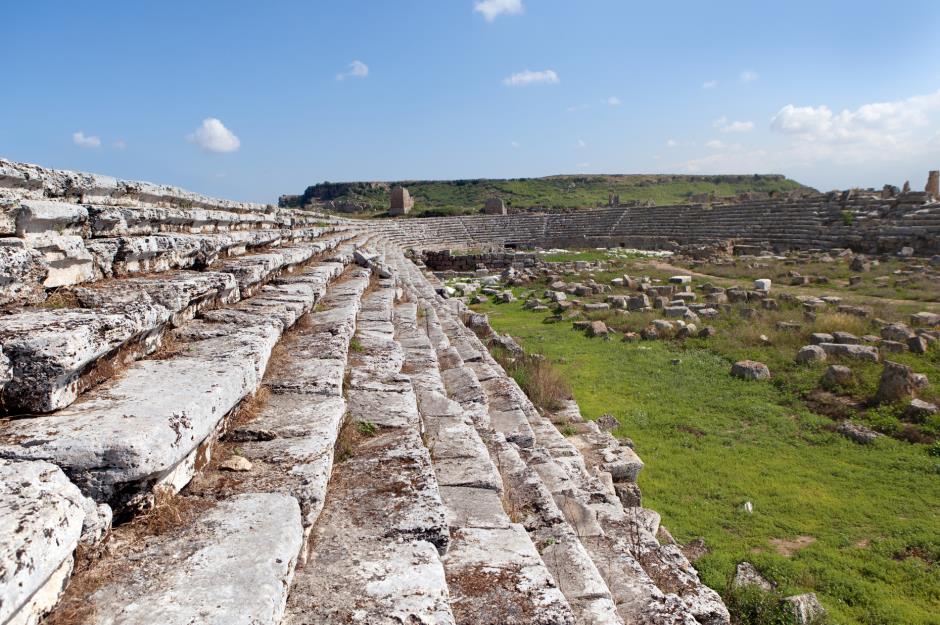 muratart/Shutterstock Many of the ruins here date back to the Roman occupation which began around 188 BC. Located to the east of modern-day Antalya in the Aksu area, Perge is home to a bathhouse, stadium (the biggest in Asia Minor) and theatre.
Empúries, Spain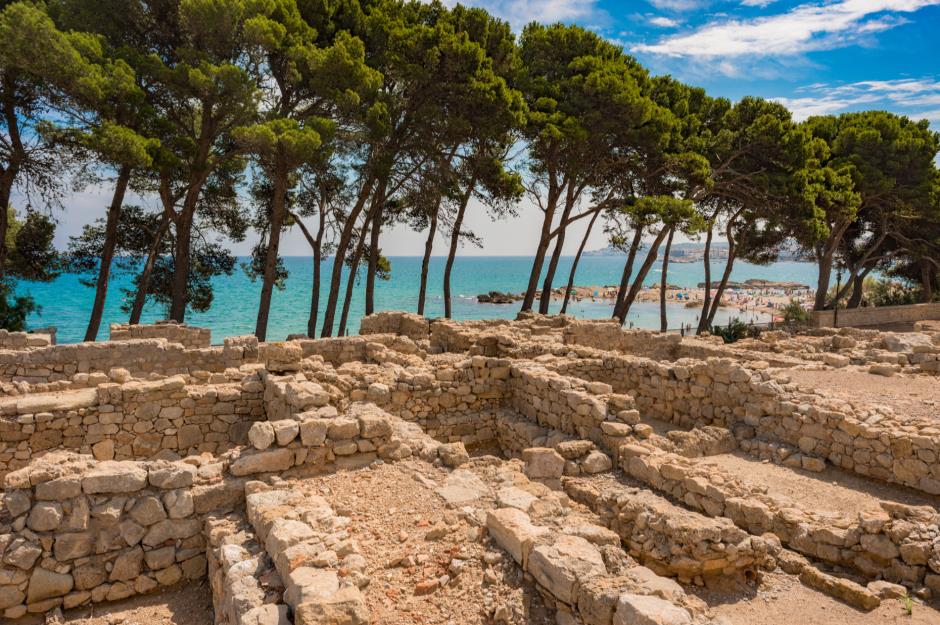 JLJUSSEAU/Shutterstock
In the northeast of Spain, modern day Catalunya, sit the Roman-Greco ruins of the town of Empúries. Overlooking the Balearic Sea, these ancient ruins are perfect for combining history with a beach break. Here you'll find the remains of everyday life – streets, houses, mosaics, temples and drainage systems. Just 90 minutes from Barcelona, when you've paid a visit to the ruins there's plenty to see and do in the Catalan capital too.
Fishbourne Roman Palace, UK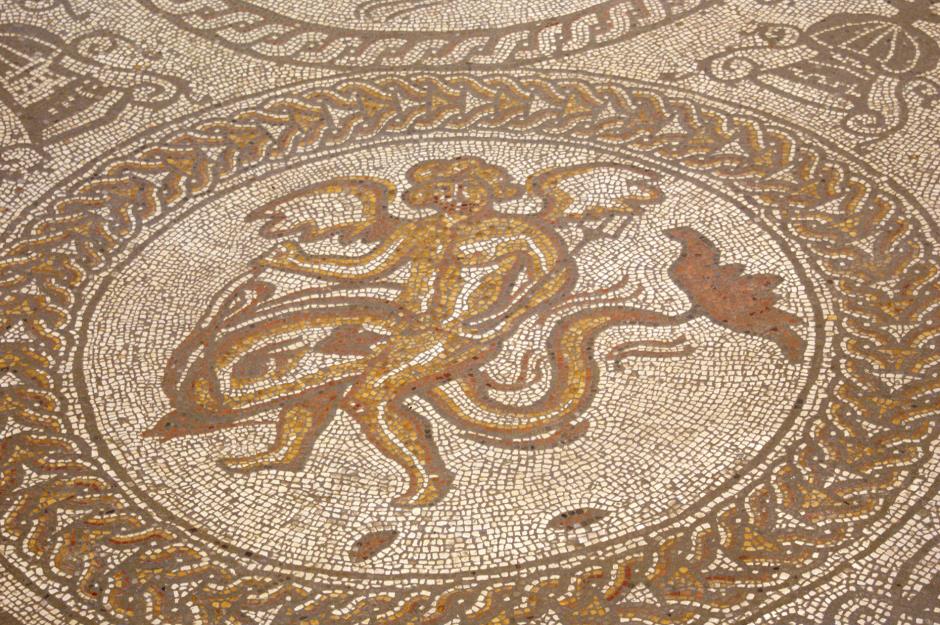 David Spender/flick/CC by 2.0
The largest Roman home ever found in Britain, Fishbourne is located in Chichester, West Sussex, on England's south coast. It is believed to date back to around 75 AD – 30 years after the Roman conquest. Home to the oldest gardens in the country, this vast, lavish residence also boasts fine mosaics including the impressive 'Cupid on a Dolphin' (pictured).
Discover more secrets of Sussex – Meghan and Harry's royal county – with our guide.
Bet She'an National Park, Israel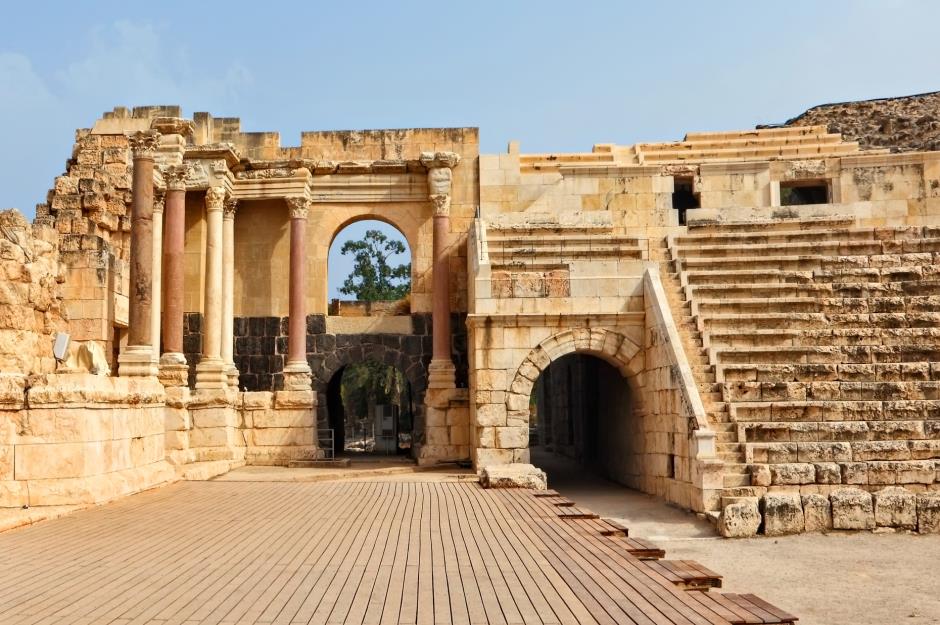 Protasov AN/Shutterstock Thanks to its strategic location where the Jordan River Valley and the Jezreel Valley meet, this ancient Roman-Byzantine city was a big deal. Today, the national park is home to the ruins of a 2nd-century AD Roman theatre and the reconstructed main street as well as bathhouses, bridges, fountains and gateways.
Capua Amphitheatre, Italy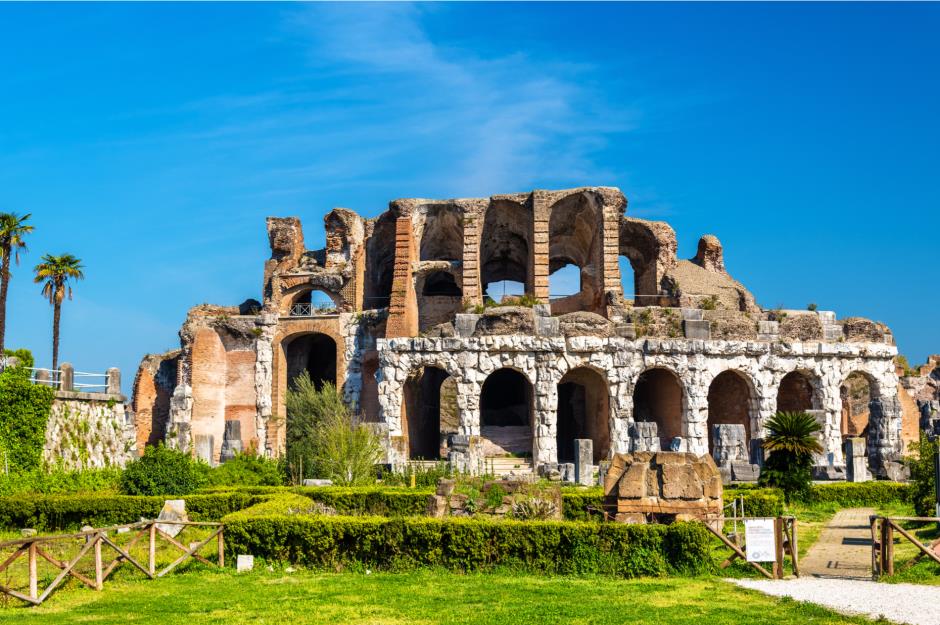 Leonid Andronov/Shutterstock
Second in size only to Rome's magnificent Colosseum, this impressive theatre is found to the north of Naples and once sat in the heart of ancient Capua. Building of the colosseum was started by Emperor Nerva and continued by Trajan and Hadrian, who completed it in 138 AD. While little remains of this once 60,000-seat amphitheatre, having been systemically sacked and ravaged by the Visigoths, Vandals and Saracens, it is still worth a visit.
Volubilis, Morocco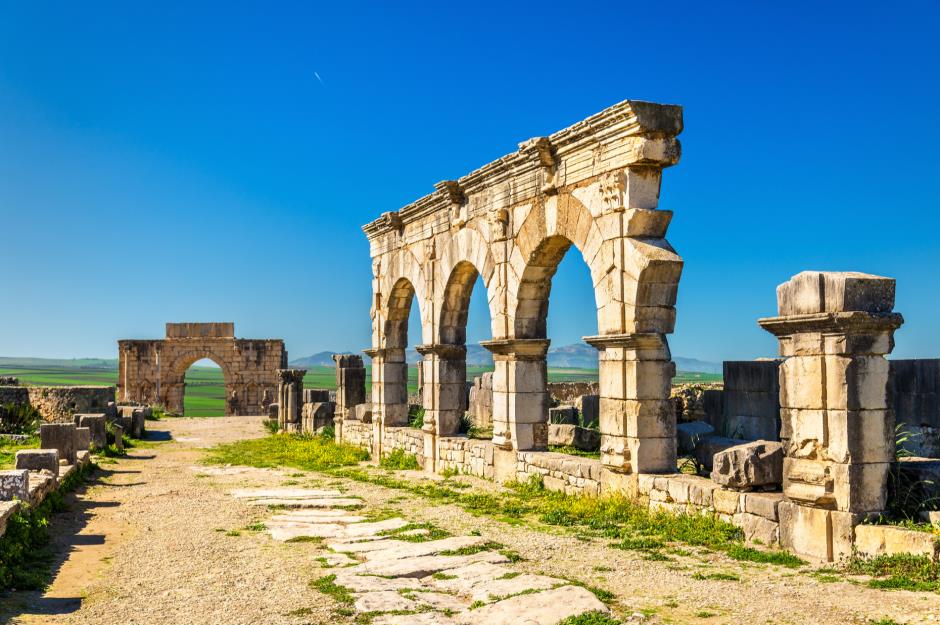 Leonid Andronov/Shutterstock Once the capital of Mauritania, this ancient city near Meknes is one of the finest Roman ruins in north Africa. It was a hugely important Roman outpost and inhabited until the 11th century. A visit here is best combined with a trip to nearby Moulay Idriss, where the ruler and founder of the Idris dynasty arrived in 789.
Olympos, Turkey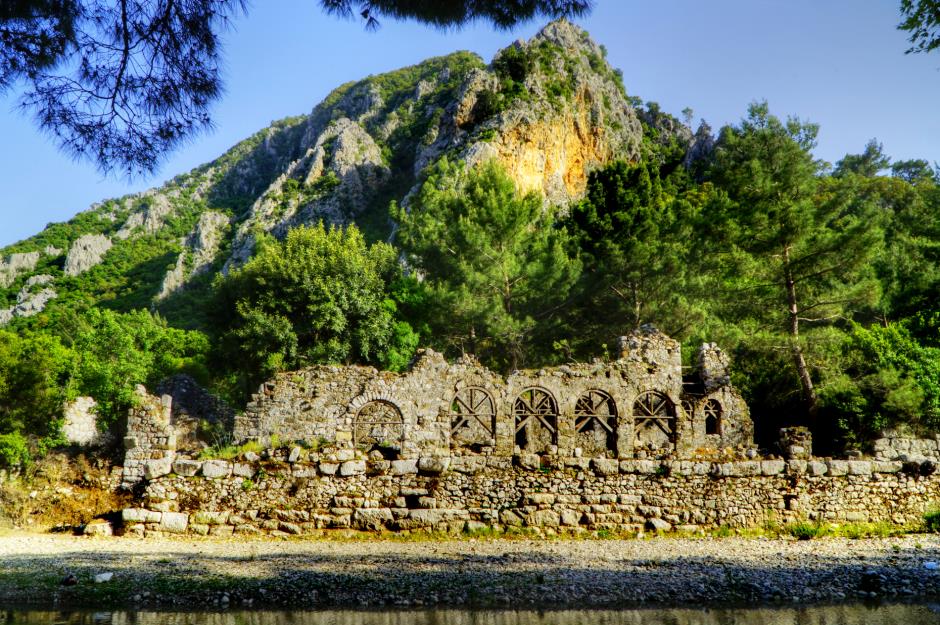 M-Selcuk Oner/Shutterstock Set within a dense forest, Olympos is a little harder to get to than others on this list but it's well worth the effort. The ruins are just inland from Olympos Beach near Çıralı on Turkey's south coast and small streams run through the remains of temples, tombs, threatre and church.
Tipaza, Algeria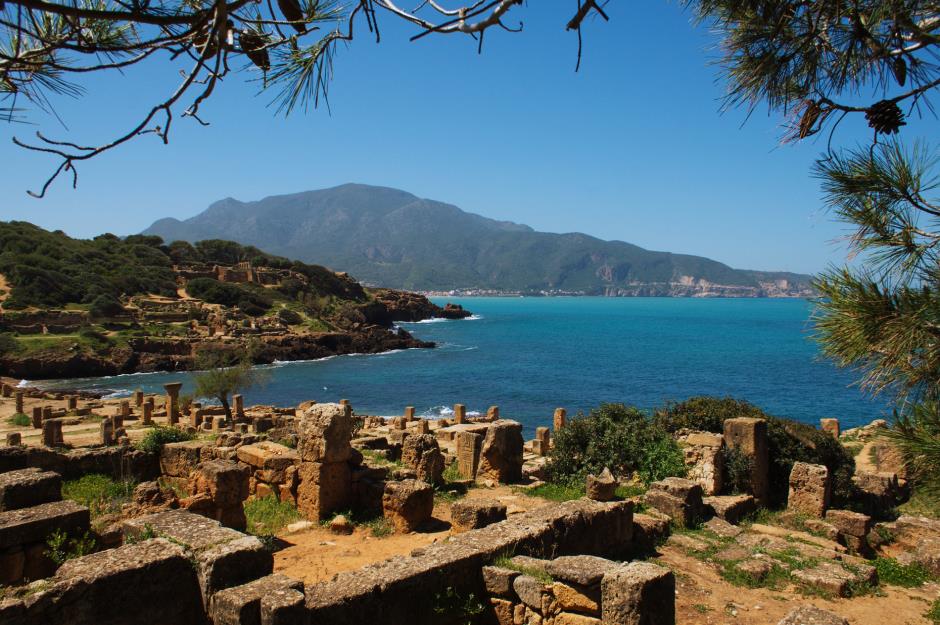 Anthony Maragou/Shutterstock Located on the beautiful Mediterranean coast to the east of Algiers, Tipaza (formerly Tipasa) was a small trading post during its life under the Roman Empire and a key strategic base for the conquest of Mauritania. There are three key sites to explore here – the two archaeological parks and the Royal Mauritanian Mausoleum. The UK and US foreign offices suggest tourists in Tipaza should be vigilant at all times.
Roman Theatre of Orange, France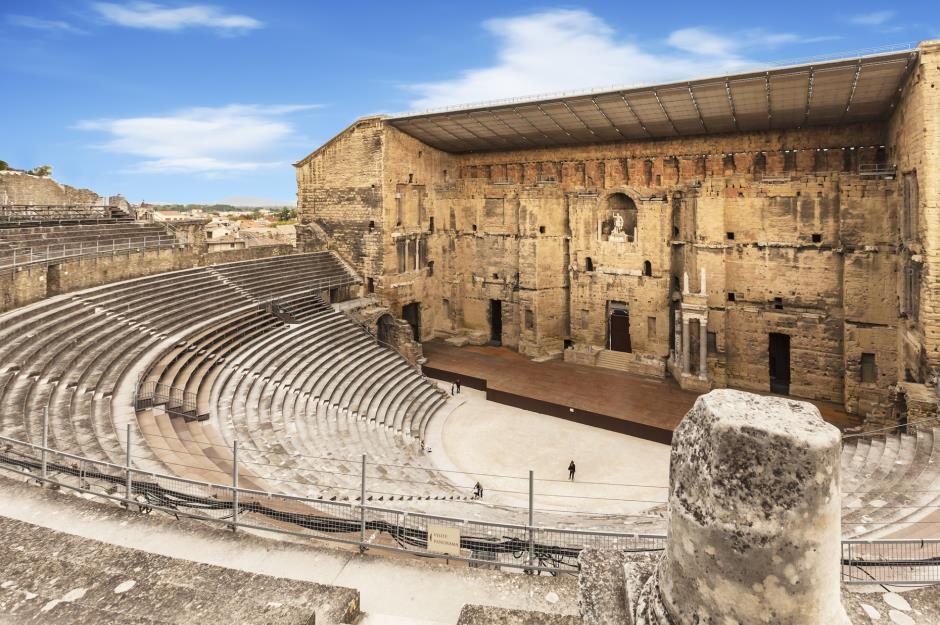 Gerhard Roethlinger/Shutterstock This impressive Roman theatre in southeast France was built in the early 1st century and is one of the best preserved in the world. Constructed during the reign of Emperor Augustus in the hope of distracting citizens from the political unrest, it still functions as a working theatre today.
Herculaneum, Italy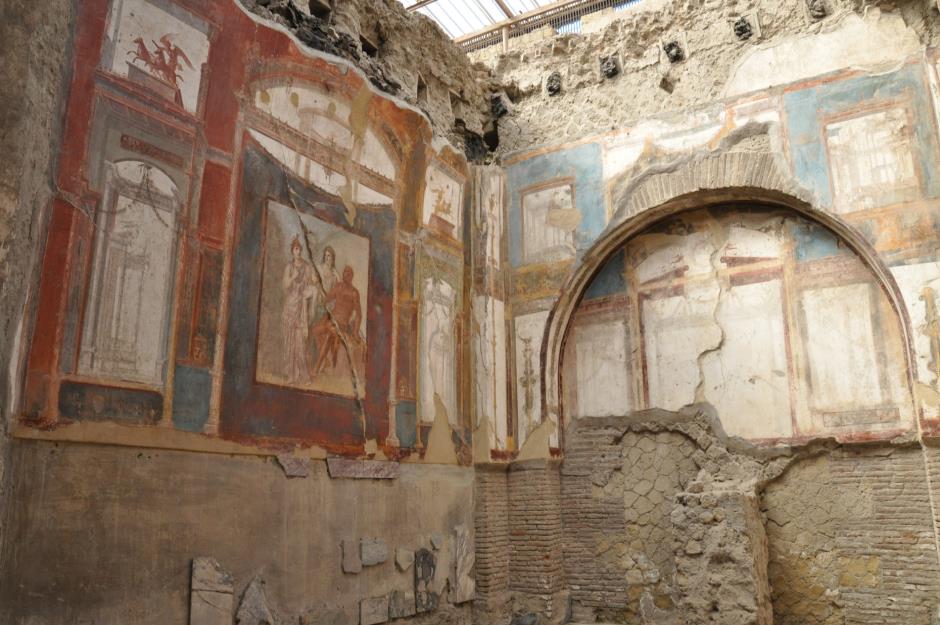 Izabela Miszczak/Shutterstock
Often upstaged by neighbouring Pompeii, this ancient Roman town in Campania was also destroyed by the eruption of Mount Vesuvius in AD 79. Unlike its sister site, it was a pyroclastic surge (fast moving gas and volcanic matter) that buried the town in mud and rubble and killed most of its inhabitants. This meant that even paper and wood was preserved, making it very different to other archaeological sites.
Discover the secrets of Pompeii that are only just being uncovered.
Baelo Claudia, Spain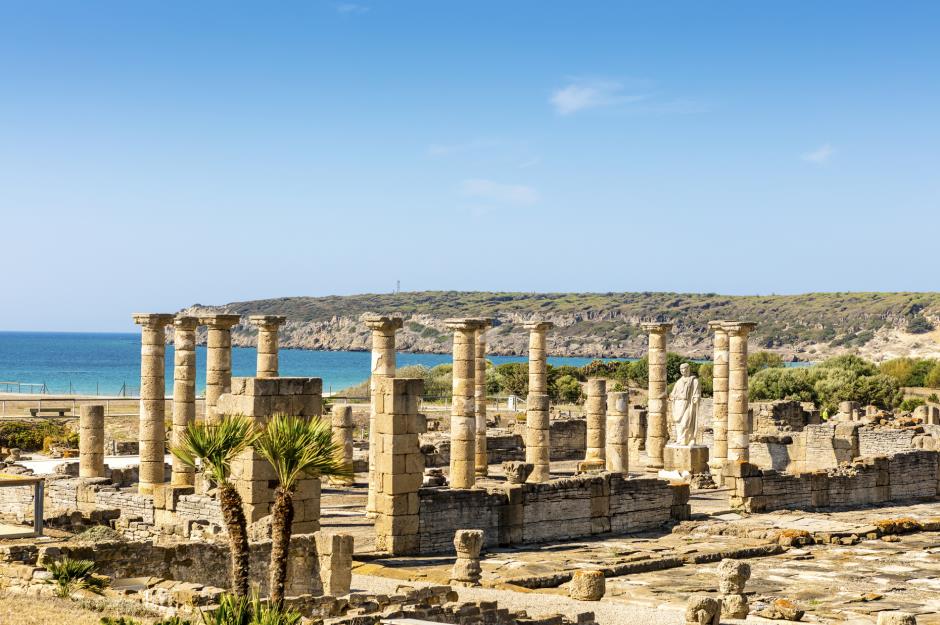 Debu55y/Shutterstock Near the Strait of Gibraltar, this ancient town was an important maritime port for the Romans and connected continental Europe with north Africa. It's a great example of what everyday life in a small Roman town was like and highlights include the remains of a fish factory, the still-standing columns of temples and the baths, fed by aqueducts.
Temple of Hadrian, Ephesus, Turkey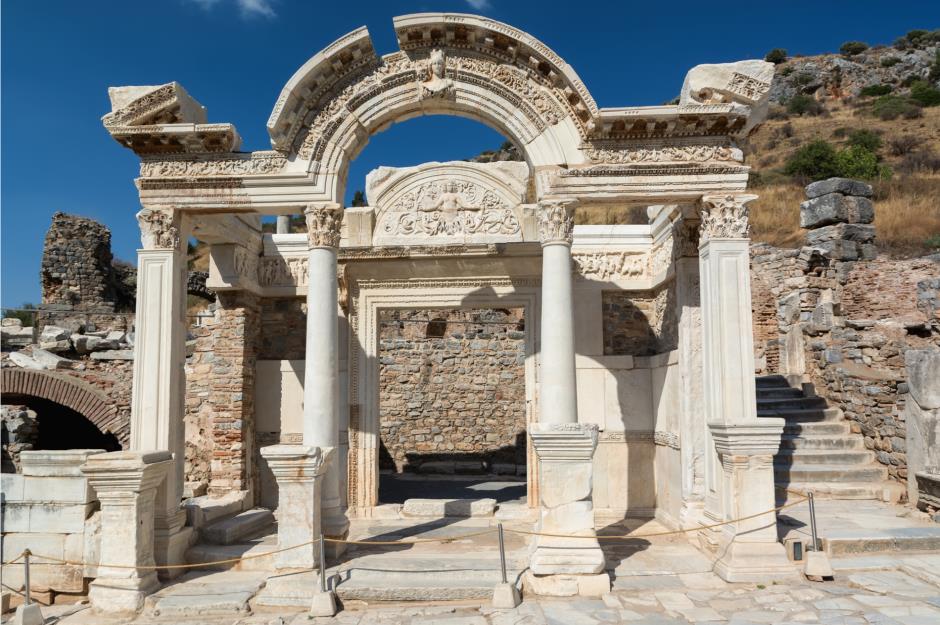 D_Zheleva/Shutterstock While much of the famous archaeological site of Ephesus is Greek (pre-129 BC), the Temple of Hadrian on Curetes Street is an intricate and significant Roman ruin – and one of the site's most popular structures. The supporting arch of the temple is intricately carved with a relief of Tyche, goddess of victory. While the famous frieze is a copy, the original can be seen in the nearby Ephesus Museum.
Pula, Croatia
OPIS Zagreb/Shutterstock Pula, on the southern tip of Croatia, has two major Roman sites. In fantastic conditions, Pula Arena is one of the greatest amphitheatres found outside of Rome and the sixth largest in the world. The second exciting ruin is the Temple of Augustus. Found in the centre of Old Town, it's one of the few temples that wasn't pulled down by the Christians.
Hierapolis, Turkey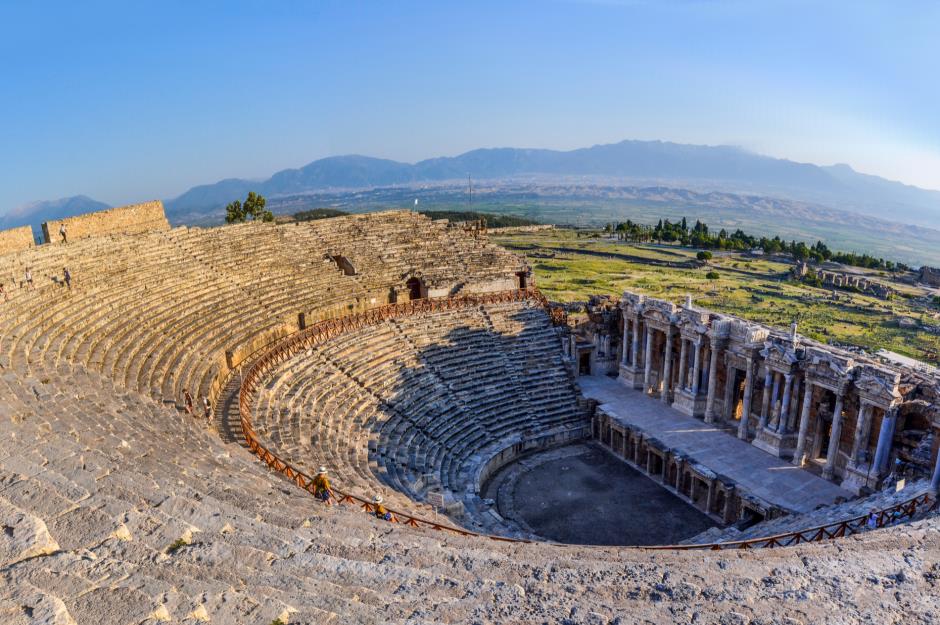 Foto-Migawki MD/Shutterstock
One of the highlights of this ancient ruin is its proximity to Pamukkale, the famous hot springs. A Hellenistic spa town – until it was ceded to the Romans in 133 BC – the Greco-Roman ruins found here include baths, temples, a monumental arch, necropolis and a theatre.
Heraclea Lyncestis, Macedonia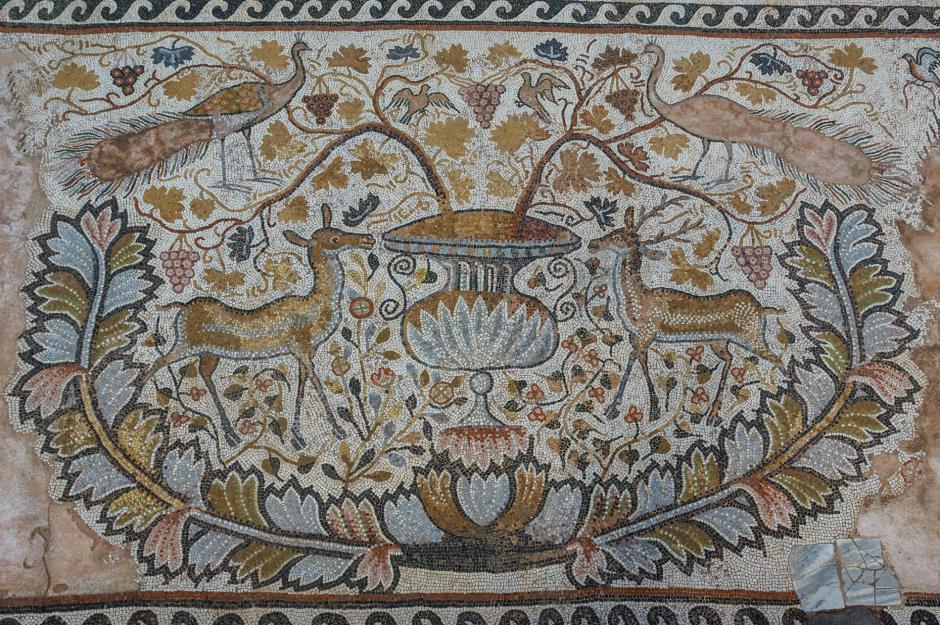 LevLevin/Shutterstock Conquered by the Romans in the 2nd century BC, this is one of Macedonia's best archaeological sites. Highlights include the Roman baths, portico, amphitheatre, basilica and palace ruins, as well as a collection of wonderfully-preserved floor mosaics.
Porta Nigra, Germany
LianeM/Shutterstock
Latin for 'black gate', the Porta Nigra is the largest remaining Roman city gate north of the Alps and dates back to around AD 170–180. It was one of four that protected the boundaries of the city and you can take a guided tour around the beautifully-preserved interior.
Discover 35 of Germany's prettiest towns and villages.
Kourion, Cyprus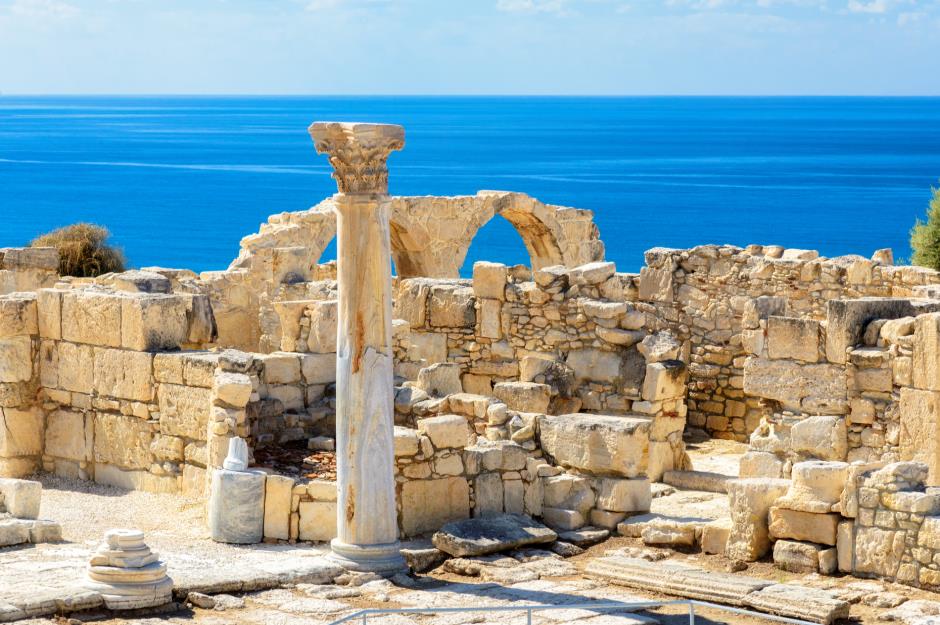 Lucky-photographer/Shutterstock Overlooking Cyprus's south coast, this is one of the island's most popular ancient sites and excavations here are ongoing. As well as the forum, baths and amphitheatre, there is also a nymphaeum, a room with water features devoted to nymphs. Don't miss the two remarkable examples of grand houses – the House of Achilles and the House of the Gladiators.
Vindolanda, England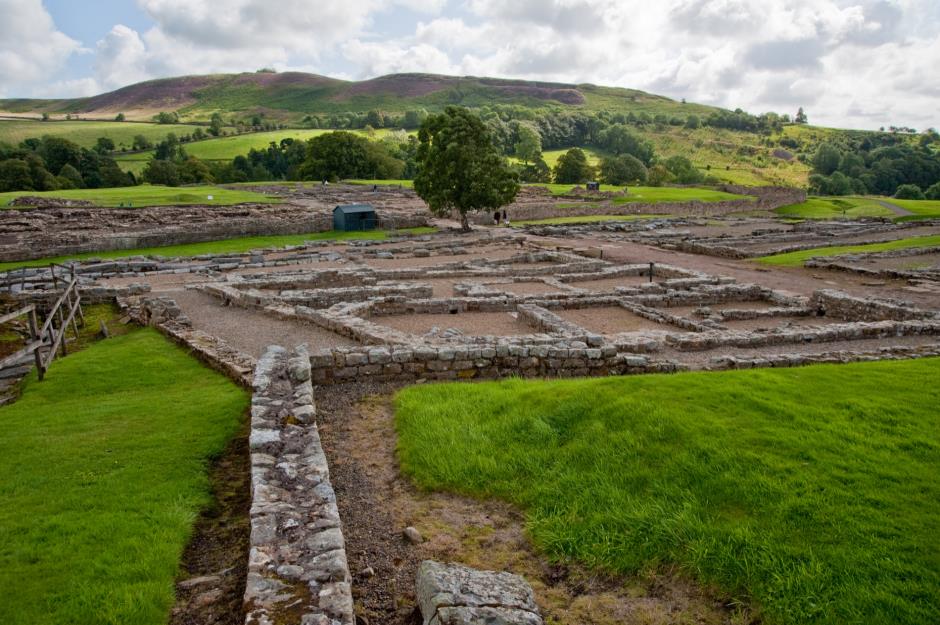 Jaime Pharr/Shutterstock
A fort found along Hadrian's Wall, Vindolanda is one of the most significant archaeological sites in England. It's here that the Vindolanda tablets were found – the oldest handwritten documents in Britain. The site is located near the village of Bardon Mill in Northumberland and you can see history unfold with live excavations which take place every year.
Baalbek, Lebanon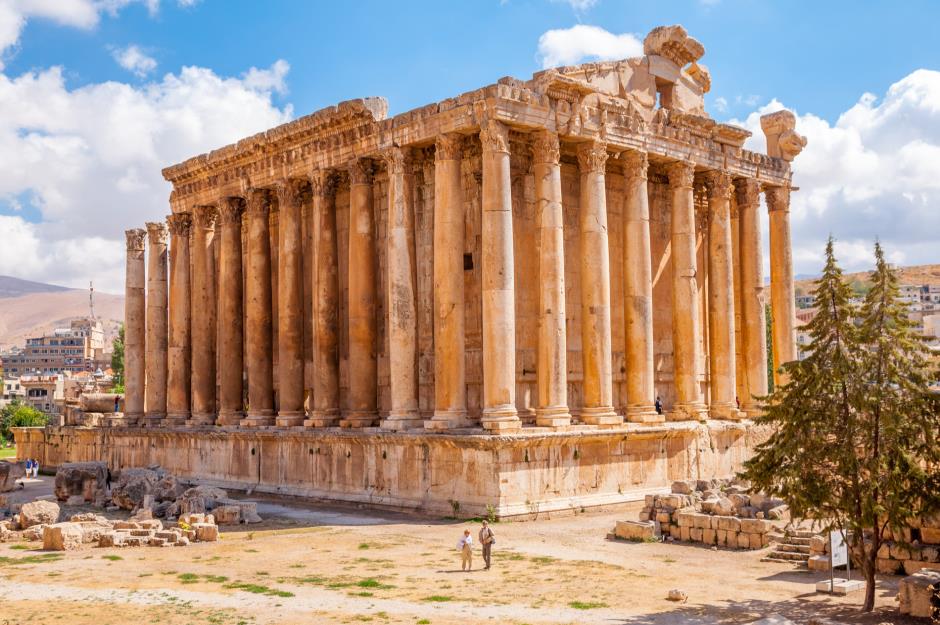 Milonk/Shutterstock Northeast of Beirut lies the ancient Phoenician city of what was once known as Heliopolis. For over two centuries, this was a place of worship and pilgrimage. Today, an impressive number of Roman structures remain intact. Sadly, due to the threat of terrorism and violence in the regions surrounding Baalbek, both UK and US travellers are currently advised not to travel there.
Temple of Hercules, Jordan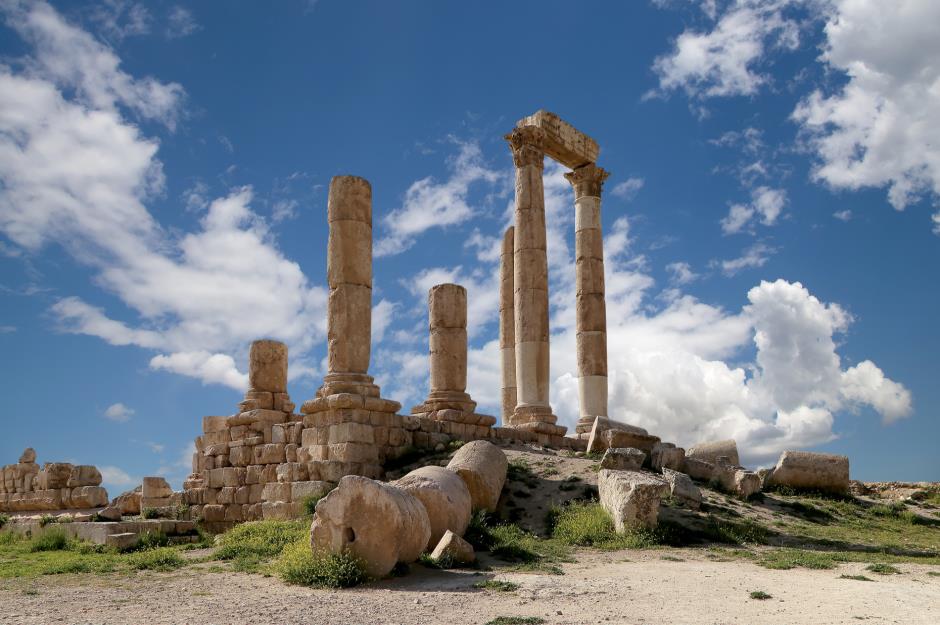 VLADJ55/Shutterstock Among the Byzantine, Bronze Age and Umayyad ruins in Amman Citadel, a historic site in Jordan's capital city, is the Roman Temple of Hercules. Built between AD 161 and AD 180, the temple's vast columns remain standing today. They're an impressive sight that can be seen from various spots around the town.
Ostia Antica, Italy
mgallar/Shutterstock
Close to Ostia, a modern-day suburb of Rome, Ostia Antica was once a great Roman harbour city. Here, ancient mosaics and frescoes found among the ruins portray the everyday life of citizens and their beliefs. The site is easily reached from the centre of Rome, with commuter trains running several times an hour throughout the day.
Djémila, Algeria
knovakov/Shutterstock
Djémila offers a fascinating insight into Roman town planning and their clever adaptation to life in the mountains. The village's layout can still be clearly seen, complete with a theatre, arches, basilica, forum, streets and temples. The easiest way to visit is to drive – the site is just over an hour northeast of Sétif, a city in northern Algeria. You'll likely be completely alone in this ancient ghost town. However, the US foreign office advises visitors to Djémila to exercise increased caution.
Sabratha, Libya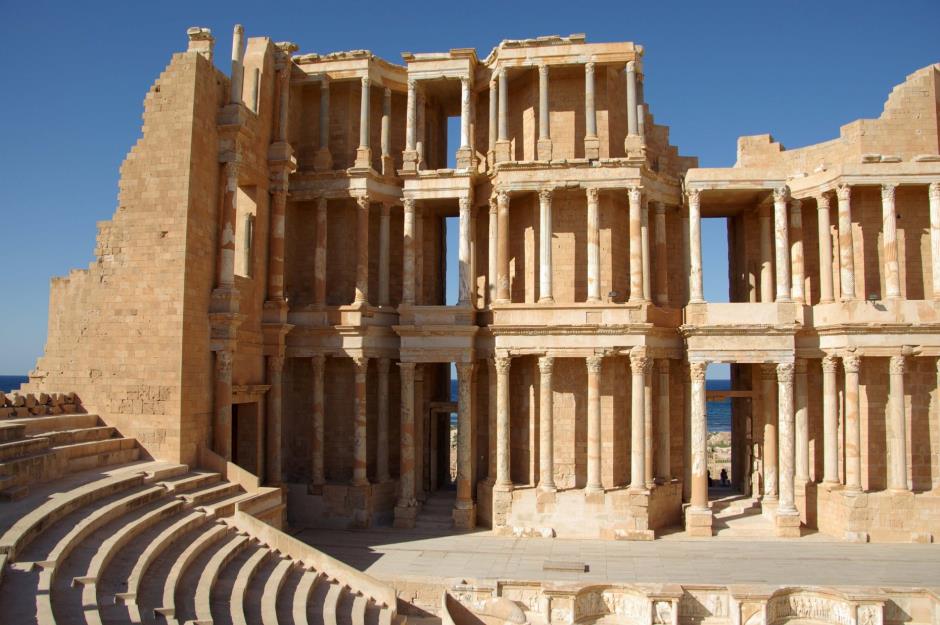 PascalRateau/Shutterstock Sabratha in war-torn Libya remains out of bounds for most due to ongoing conflict, but once upon a time this was a popular tourist spot. Originally a Carthaginian trading post, Sabratha was extensively re-built in the 1st century AD. Many of the monuments still standing today are from this era.
Amphitheatre of El Jem, Tunisia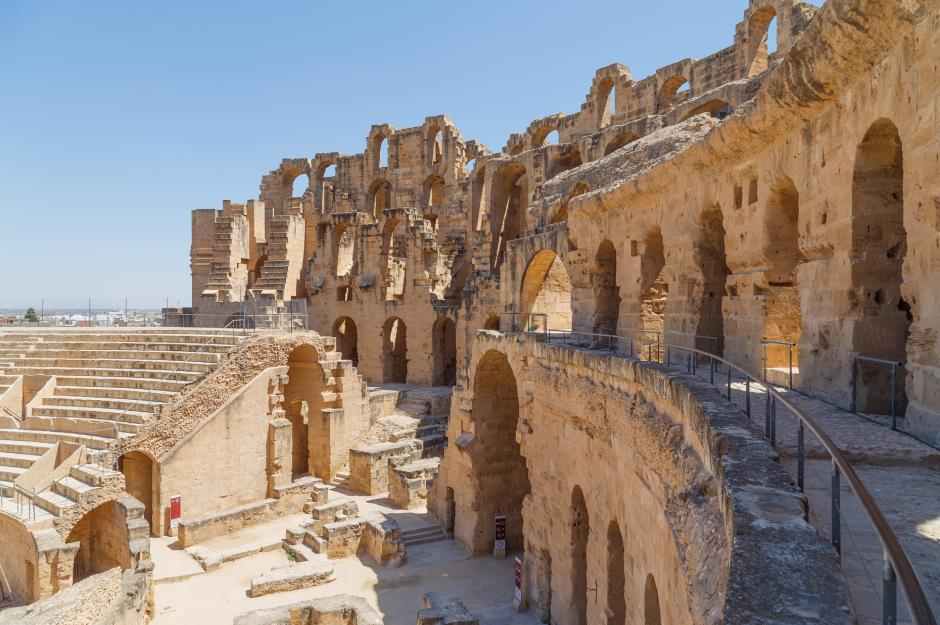 Dmitry-Vorobyev/Shutterstock The largest colosseum in north Africa, this impressive 3rd-century monument is a UNESCO World Heritage Site. It was constructed in much the same way as the grand Colosseum in Rome – there are no foundations and the theatre has been built entirely out of freestanding blocks. Although tourism is seeing a comeback in Tunisia after a few turbulent years, travellers should still be cautious.
Diocletian's Palace, Split, Croatia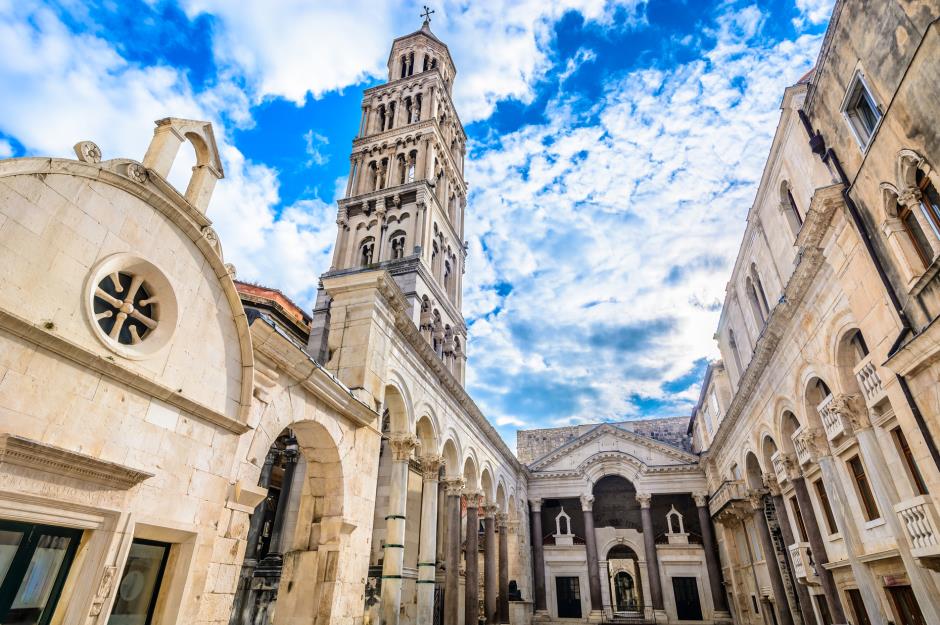 Dreamer4787/Shutterstock
Built for the Emperor Diocletian at the turn of the 4th century AD, the name 'palace' can seem a bit misleading when referring to this beautifully-preserved labyrinth-like structure. Covering almost half of Split, no expense was spared. Diocletian had marble imported from Italy and Greece as well as elaborate sphinxes from Egypt. The palace recently shot to fame when it was used as a filming location for Game of Thrones. Check out more Game of Thrones filming locations here.
Roman Temple of Évora, Portugal
Kapa1966/Shutterstock The temple, known by locals as 'Diana Temple', was built at the city of Évora in Largo Conde de Vila Flor square. Founded in the 1st century AD in honour of Emperor Augustus, a castle was constructed around the temple almost a thousand years later, then dismantled again to reveal these impressive ruins.
Caerleon Roman Fortress, Wales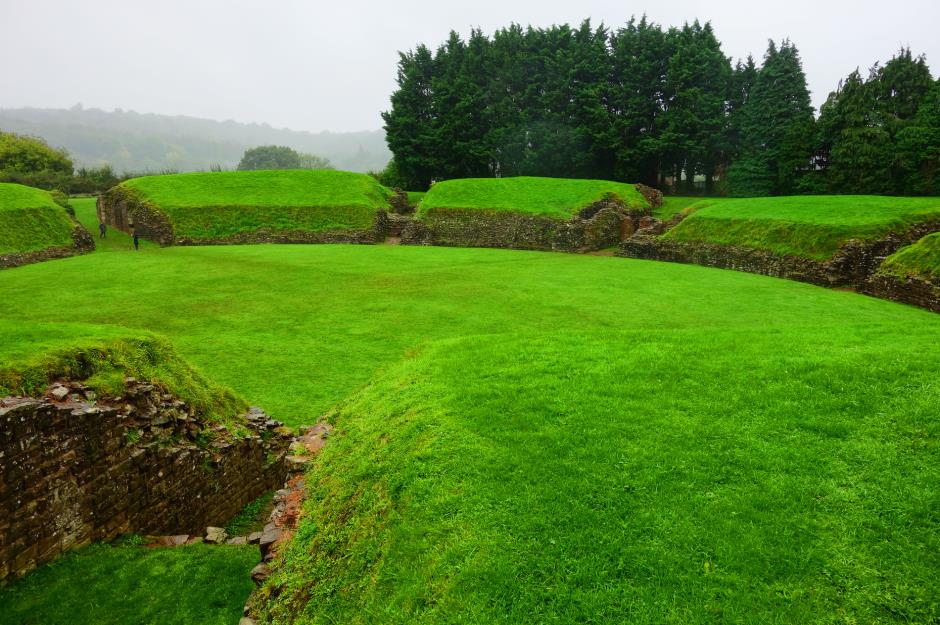 Michael Neil Thomas/Shutterstock
Caerleon was one of the furthest outposts of the Roman Empire. Here, a rare permanent fortress was built in around 75 AD and garrisoned for over 200 years. It's the only place in Europe where remains of Roman legionary barracks are found. The site is also home to the most intact amphitheatre in Britain, as well as baths and an open-air swimming pool.
Roman Theatre of Mérida, Spain
Marisa Estivill/Shutterstock Buried for over 1,000 years, this impressive theatre in the city of Mérida in western Spain, is one of the most important archaeological sites in the country. Its construction started in 15 BC and today it's still used for performances. The nearby Roman amphitheatre is also worth a look.
Odeon of Herodes Atticus, Athens, Greece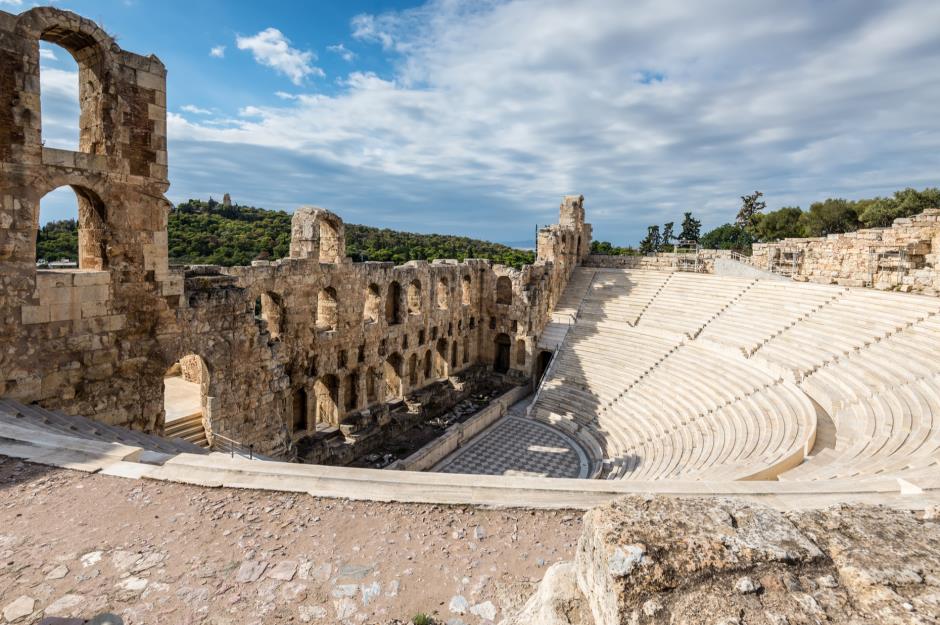 byvalet/Shutterstock Unusually for Greece, this magnificent theatre was built in the Roman style. Built around AD 161 by Herodes Atticus, the Athenian structure remains one of the most impressive in the world and has hosted concerts by musical greats such as Luciano Pavarotti and Frank Sinatra. While you generally need a concert ticket for admittance, you can get a great view of the open-roofed theatre from the Acropolis.
Plovdiv, Bulgaria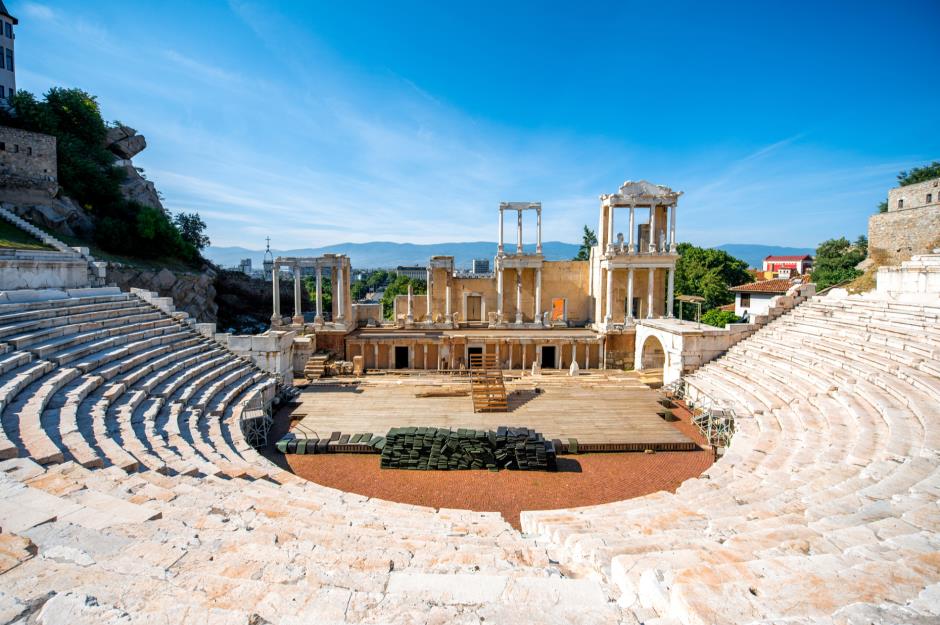 RossHelen/Shutterstock
Bulgaria might not be the first place you think of when planning a trip to see ancient Roman ruins, but the city of Plovdiv has a number of impressive sites. Highlights include the Roman theatre of Philippopolis, which is believed to date back to the 2nd century AD. This year Plovdiv is a European Capital of Culture. You can find out what else to see here with our 48-hour guide.
Nîmes Arena, France
Bertl123/Shutterstock This amphitheatre in the city of Nîmes in the south of France is one of the best examples of its kind. This impressive oval-shaped structure once put on epic shows and Roman games. It is still in use today and hosts controversial bullfights during the festival of Féria.
Magdala, Israel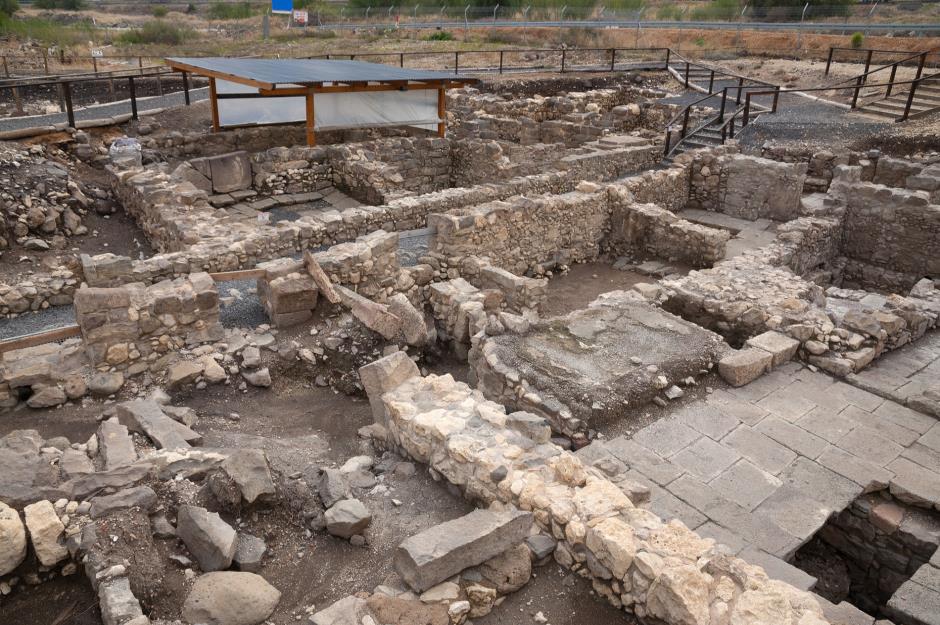 pokku/Shutterstock
Now known as Migdal, Magdala in northern Israel sits on the Sea of Galilee and is considered by many to be the hometown of Mary Magdalene. In 2009, an archaeological dig revealed an ancient synagogue here that dates back to the 1st century BC.
Don't miss 50 photos of worldwide wonders we've only just discovered
Bath, England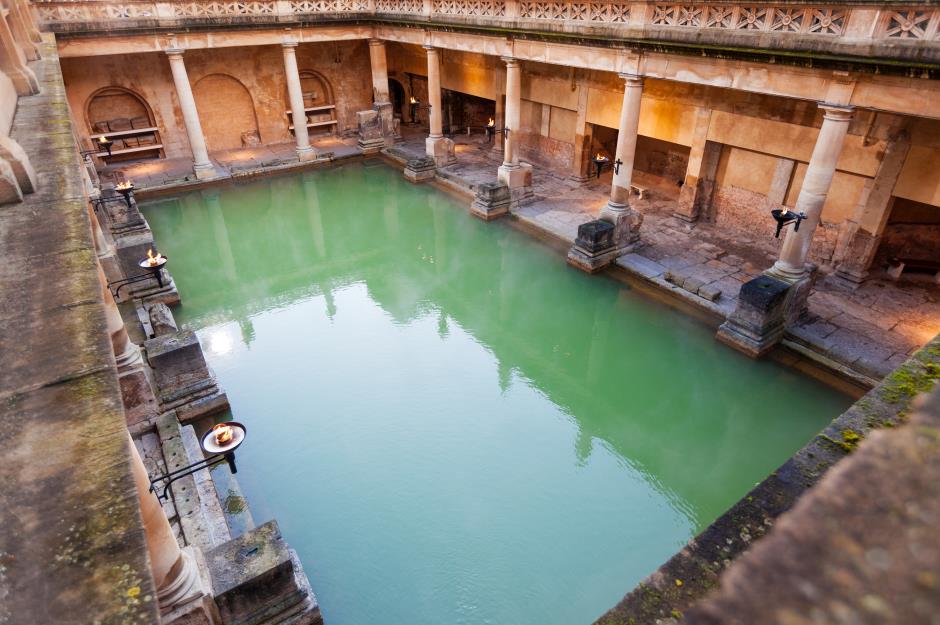 antb/Shutterstock
As one of the best-preserved Roman sites in the world, we couldn't resist including the ancient thermal spa of Aquae Sulis in Bath on our list. Here you can see the Great Bath and the Sacred Spring as well as the remains of the Temple to Sulis Minerva (the primary deity of the temple spa), changing rooms, saunas and hypocaust systems (under floor heating).
Discover more about Bath with our full guide to this stunning city.